Books for Sale
The Historical Society has a large selection of books and other material for sale. They can be purchased by visiting the society when the museum is open (museum opening times) or by contacting the society directly (contact).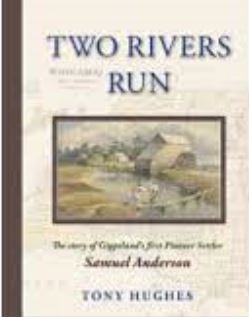 Two Rivers Run
Tony Hughe's book covers the story of Samuel Anderson who in October/November 1835,  became Gippsland's first settler and created Victoria's third settlement, just a few months after John Batman's party settled Melbourne. 
Cost  $38 +P&H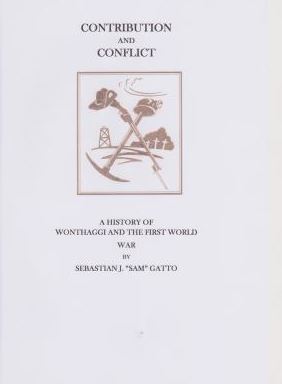 CONFLICT and CONTRIBUTION
An extensive and interesting story of Wonthaggi and WWI. Written in two parts – Part 1 The Home Front links Wonthaggi to Victoria, Australia, The World in the events on the Home Front and Overseas.  Part 2 is focused on three individual case studies: The Hegarty Boys, Dr Looney, a "hidden Anzac", and "Moff" Tinkler's Odyssey – a tale of survival.
Cost $30 + P&H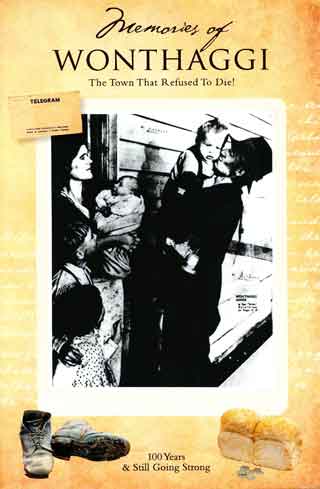 MEMORIES OF WONTHAGGI
Personal stories which tell about the life of the people.  These stories were from interviews with Wonthaggi's early residents and "snippets" of memories written for the purpose of this book.
Cost $25 + P&H
THE STATE COAL MINE AT WONTHAGGI 1909 – 1968
An interesting record of a 1964 and 1976 manuscript, which recognizes the importance of Wonthaggi's contribution to the development of Victoria.  Told by Jon Sleeman whose family connection and love of mining inevitably led him to a long career with BHP.
Cost $20 + P&H
UP FROM THE UNDERWORLD
This book addresses the question: how was it that a small mining community, Wonthaggi, with a strong union, on the margin of Australian coal mining was able to exert an influence on that industry out of all proportion to its size and numbers for nearly 60 years? At different times Wonthaggi State Coal Mine and its workforce represented a national benchmark for mine development – Reeve's book tells this story – both of the history of the union and the community.
Cost $35 +P&H
PHOTO FRAMES
W&DHS produces these using prints from our magnificent photographic collection.  These are custom made but usually focus on themes e.g. street / shops including pubs, mining including tent town, local beaches, shipwrecks and the whale.
Cost – between $15 – $45, depending on the frame, number and size of photographs.
Collection only.
ACCEPTING THE CHALLENCE – A History of Wonthaggi & District Hospital 1910 -1970
Extensive research and detail of how a town and hospital was born.  From early ideals and vision, strong commitment, which used "difficulties and disappointments as stepping stones to ultimate achievement ", the history of the hospital was "an integral part of the Wonthaggi Miners' struggle for a better, fairer world for the working man."
Cost $32 + P&H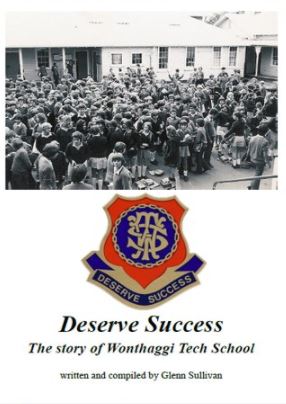 DESERVE SUCCESS – The story of Wonthaggi Technical School.
The research for this book takes you back to an era "1880 – 1900, when technical education was seen as an ideological pursuit to build our nation." This led to the need for a secondary education facility in Wonthaggi.  It tells of the early years to get the buildings, the courses and the structure of the technical school until it became the Wonthaggi Secondary College in 1988 when it amalgamated with Wonthaggi High School.
Cost $40 + P&H
THE ART of LIVING, LIFE & ARTISTRY of JAMES GLOVER
Jim was an artist, teacher, field naturalist and one of the founding members of Wonthaggi & District Historical Society. The book illustrates his wide range of artistic works – poems and prose, calligraphy, etching and drawings, painting and silver and copper work.  It demonstrates Jim's great appreciation of the natural environment and need for its conservation.  An excellent publication!
Cost $35 + P&H
THE GOLDEN COAST HISTORY OF THE BUNURONG
Bill Hayes' book tells a wide ranging and fascinating history – geological, aboriginal and European occupation, of the local coastline from Anderson Inlet to Cape Woolamai. Bill's passion for conservation and social reform imbue his history.  He draws together other recorded histories to present an excellent summary of what's along our coastline including stories about settlements including the huts, events, shipwrecks and the whale.
Cost  $20 +P&H